The IT is one of the biggest disc releases of 2022 for Innova, adding to an already stacked group of fairway drivers. The IT currently comes in three different plastics, DX, G-Star, and Star, and has a large variety of weight options ranging anywhere from 140 grams to 175 grams.
With 7 speed, 6 glide, -2 stability, and 1 fade, the IT fills the gap between the Roadrunner and the Leopard/Leopard3. The rim is very similar to the Roadrunner with a slight bubble rim that fits very well in the hand. The flight is similar to a Leopard3 with a touch more under stability and more glide.
Players that throw around 200-250 feet will use the IT as a very neutral fairway driver that has a slight finish at the end of the flight. IT is a VERY VERSATILE disc that can that can throw really well on a turnover line and on a hyzer line. A true Swiss-Army Knife with tons of glide.
Players throwing around the 300 feet mark will start using the IT as a slightly understable fairway driver that is very workable. IT can be thrown on a hyzer line and will flip up to flat and go dead straight. If IT is thrown on a flat or anhyzer angle, it will turnover but still land flat. Still very versatile for those throwing around 300 feet.
For those who are throwing 350 feet or more will use the IT as a "Get out of Jail Free Card." Whether it's rollers, forehand turnover upshots, or big hyzer flip ups that bomb, IT can get you out of trouble. IT is definitely on the more understable side for big arms, but can still be a weapon in your bag. 
The IT can be used by all different skill levels and for all different shots. With a  similar flight to the Latitude 64 River or the Discmania Essence, the IT adds more weight and plastic options. The versatility and glide is what makes the IT one of the best releases of 2022.  
                 DX                              G-STAR                         STAR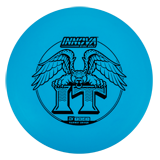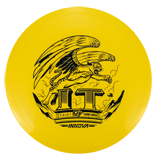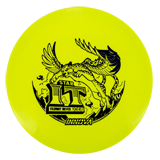 FIRST RUN (STAR)